ROCK BAND IS GOOD FOR KIDS
HOW DO CHILDREN BENEFIT FROM ROCK BAND CLASS?
As students learn the basic components of music making in a group setting, they also gain skills valuable outside of the rock and roll classroom. The class becomes a band. The band becomes a team. Students benefit individually while learning important group skills.
BENEFITS
TEAMWORK: Students learn responsibility and trust through group work and play.
COMMUNICATION: Group play encourages communication as both peers and musicians.
SELF-ESTEEM: Self-esteem grows as students gain confidence in their musical abilities.
LISTENING: An essential component of music making, listening informs not just rock band classes but many aspects of life.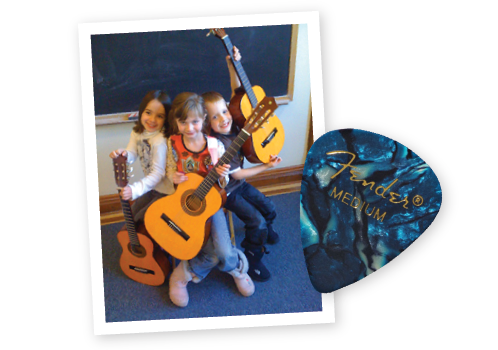 PROCESS
Younger children (ages 4-6) are encouraged to experiment with the different instruments comprised in rock band classes. These can include guitar, bass, keyboards, drums and vocals. Got a saxophone you want to play? Bring it in and your teacher will find a place for you! Older children (ages 7-10) begin to gravitate to certain instruments and often seek private lessons to help solidify their learning. Students ages 11 and older are introduced to more technical aspects of music while learning the value of musical dynamics and performance. All of these classes are supported by online tutorials (also available in DVD format). Kids are able to slowly work up to performance level on their particular songs while getting to use online video sites like YouTube to inform and enhance their classroom experience.